LENTEN & EASTER WORSHIP
bunny business
Saturday, April 20
9-10:30AM, Kiva Field
Join us for a community egg hunt, games, crafts, snacks, and the Easter Bunny! Don't miss out on this fun morning for the whole family. This is one of VPC's biggest and most anticipated events; invite your friends and coworkers!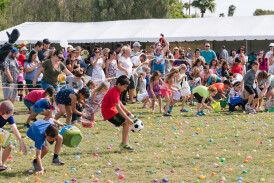 Palm sunday processional
Rehearsal: Saturday, April 13, 9AM, Sanctuary
Processional: Sunday, April 14, 9 & 10:30AM Worship Services
Kids have the opportunity to bring Jesus' triumphal entry into Jerusalem to life in 9AM and 10:30AM worship with scripture, drama, and song.
MAUNDY THURSDAY
Thursday, April 18
6:30PM, Sanctuary
Good Friday
Friday, April 19
Noon & 6:30PM, Chapel
5th Grade transition banquet
Sunday, April 28
4:30PM, Landes and Chapel
Milestones are important, and this worship service is an opportunity to celebrate kids who are moving into Student Ministry. This is a worship service with a lot of laughter and tears.