Do you want to grow deeper in relationship with Jesus while you connect with other Christians?
Our small groups meet at various times throughout the month to study God's word and encourage each other to live it out loud. Because the groups are loosely divided by age, participants have the opportunity to build authentic relationships and find care and support. Each group is open to singles and couples, with or without children.
Occasionally people will find that a particular group just "works" for them even though they aren't in the general age range. We invite you to try a few groups and find the one that's works for you.
20s and 30s Community Group (Born) 1970s-1980s
Come check us out if you yearn to be in an authentic community with people who love Jesus and want to connect with each other. Join us anytime! We meet every other week.
For more information on the 20s and 30s Community Group or call Chris Woodard, 480-773-5318.

Young Adult Bible Study with BSF Wednesdays starting January 10, 7PM

Dinners at Chris & Brianna Woodard's, May 17

Lunch After Church, May 6 after 10:30AM service, various locations
30s and 40s Community Group (Born) 1960s-1970s
We know time is a precious resource for those who may be establishing their career or starting a family. This semester the 30-40s Community Group will connect around three priorities: parenting, finances, and marriage. For more information about this group, email or call Tina Gilbreath, 480-991-6424 ext. 160. E-mail Allison to join our Facebook group.
40s and 50s Kaleidoscope Community Group (Born 1950s-1960s)
Sundays, 9-10AM, Room 409
Ed Glady:
Bringing Heaven to Earth
April 8-May 20
EVENTS
TBD: Mountain Hike & Brunch
50s and 60s The Boomers Community Group (born 1940s-1950s)
Classes, Coffee and Confections
Welcome! Come early for fellowship, learn about God, & grow in faith with us.
Sundays, 10:30AM, Fireside Room - Last class for the season will be Sunday, April 29th.
Bring a friend!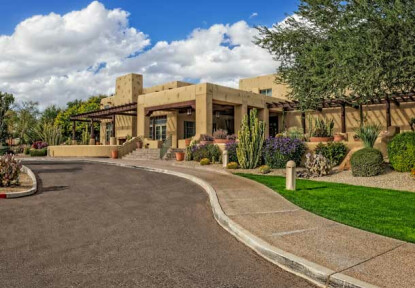 End of Season Brunch
Sunday, May 6, 10:30AM
Camelback Golf Club, Cost $8-$18

You may order from the breakfast or lunch menu. Entrees $8 - $18. RSVP. Please email Lynn Webb at or reply to your eVite to reserve your seat.
Movie Parties
The next movie party will be held in the Fall - Date to be determined.
HOW THEY WORK: Go see the movie on your own, then come to the party for a lively discussion of the film, including ranking it from 1-5 stars. Please bring a ready-to-serve "happy-hour-worthy" appetizer and beverage to share.
Facebook
Follow The Boomers on Facebook by clicking this button.
Email List
To receive Boomer announcements and invitations by email, send your name and email address to Debbie Sayre by clicking this button.
Visit the Photo Gallery to see MORE pictures of the Boomer Community Group activities!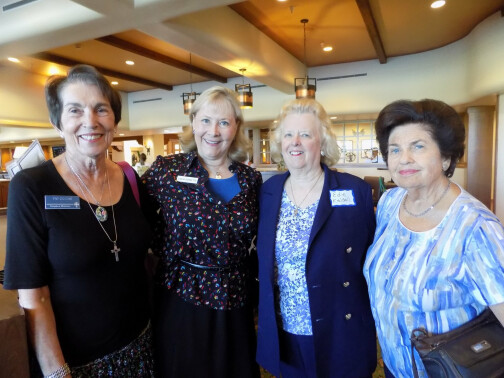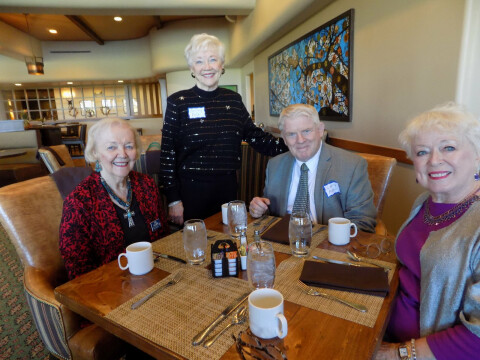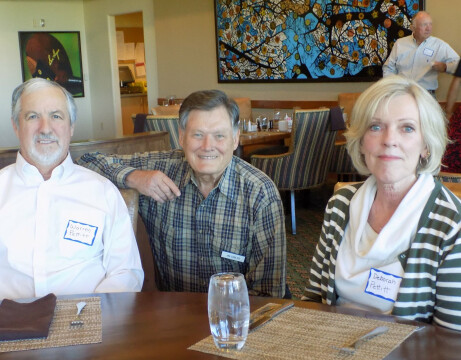 Boomer Community Leadership Team Email List

Lyn Ambrose
Sarah Burnette
Robbie Peterson
Debbie Sayre, Chair of the Boomer Leadership Team
Jerry Sayre
Lynn Webb
Rob Webb


60s and 70s Seekers & Searchers Community Group (born) 1930s-1940s
Fellowship and Luncheon
First Thursdays
12:30-1:30PM, Camelback Golf Club
Bible Study and Discussion:
Second & Third Thursday of the month
1-2:30PM, Crossing 104
Our study will be led by Chris Woodard.
We hope you can join us! If you have any questions, please email Judith Robins,



70s and Better Sages Community Group (born) 1940s+
We meet throughout the month for fun activities, delicious food, and faithful fellowship. We would love to have you join us! For more information or to join our group please email .
Weekly Class
The Community Group for those age 70 and up meets year-round for study on Sundays, 10:30AM, Calvin Center.
Lunch Bunch Third Thursday of the Month
11:30AM, Camelback Golf Club

Upcoming dates: April 19, May 17
RSVP to Wandie via or by calling 602-316-3372 or Bette Hughes 480-949-1776.
Fellowship Thursday, Mexican Train
First Thursday of the Month
1-3PM, Fireside Room

Mexican Train is a fun and easy game! Join us even if you've never played before. RSVP to Wandie via or by calling 602-316-3372
Dinner, 5PM, Fireside Room
April 12- Brisket, May 3, Taco Bar
Card Making Classes, 3PM, Fireside
May 10
RSVP to Wandie via or by calling 602-316-3372
Night at the Phoenix Theatre
RSVP to Wandie via or by calling 602-316-3372
Godspell- Thursday, April 26, 7:30PM, Phoenix Theatre
Little Shop of Horror- Thursday, May 24, 7:30PM, Phoenix Theatre