Women's Ministry at Valley Presbyterian Church is a place where you can connect with women of all ages, be encouraged in your faith, and share your experiences. There's a place for you here!
Presbyterian Women
This is a national independent organization of more than 300,000 women within the Presbyterian Church. Presbyterian Women welcomes women for a variety of activities that include fellowship, Bible study, worship, community service and prayer. With the exclusion of the summer months, Presbyterian Women typically has two events per month, Women's Circle and a Speaker Series Luncheon.
Spring White Elephant/Rummage Sale
Friday, April 6, 7AM-4PM
Saturday, April 7, 8AM-12PM
Landes Center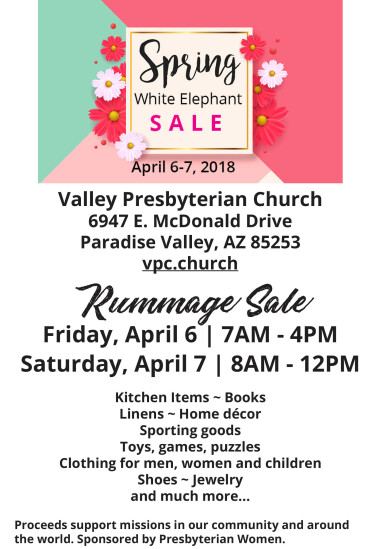 Women's Circle


Small-group Bible Studies
Meets September through May on the second week of each month. Join us anytime! We have six circles: One meets at Westminster Village on Tuesdays, and on Wednesdays three groups meet in participants' homes while two meet at the church (one in the morning and one in the afternoon). Contact Coordinator: Wandie Hulick 480-634-1858 for more information.

Esther
Second Wednesday of the month, 9:30AM, Members' homes
Sandra Gonzales: 602-616-0458,
Sharon Vincent: 480-947-5492,

Mary
Second Tuesday of the month, 9:30AM
Westminster Village, 12000 N. 90th St., Scottsdale, AZ 85260
Jeanne Campo: 480-994-4416,
Barbara McCreary: 480-451-2233,
Lydia
Second Wednesday of the month, 9:30AM, Calvin Center
Lara Robinson: 602-493-9064,
Janice Steiner: 602-867-1570,

Sarah
Second Wednesday of the month, 12PM, Room 409
Alice Paige: 602-404-5508,
Bettie Ringle: 480-251-8384,
Luncheon and Speaker Series


Luncheon and Speaker Series

Monthly Wednesdays, 11:30AM, Landes Center
Cost: $10, RSVP: 480-991-6424
Enjoy lunch, fellowship and inspiring speakers!

March 21: Peggy Frie Peggy is the former Moderator of the Presbytery Synod of the Southwest. She will speak about a mission trip to Indonesia.

April 25: A Colorful Travelogue Details TBA

May 23: Kathy Arner & Chris Woodard A program on our important missions and charities, MentorKids, Family Promise, and our continuing support of education in Malawi.
Fellowship Events
Progressive Dinner
Sunday, March 11, 4-6PM, VPC Campus, Free
RSVP to Kelly:
Appetizers, Entrée, Dessert, and Fun!! This women's event is an opportunity to spend time with one another and make a donation to the scholarship fund for the Women's Retreat.
Women's Retreat 2018: Transformation with Ele Parrot
Friday, April 20-Sunday, April 22
Resident Inn by Marriot, Prescott, AZ Cost $185


Get away from daily distractions and spend time learning about God with women of all ages. There will be biblical teaching, conversation in small groups, free time to relax, and community meals. Each woman will share a room with one other woman. Email Kelly if you have any questions. We are excited to be joined by Ele Parrot this year. Ele is a passionate Christfollower among her family and also in MissionNext. In addition to managing all of MissionNext's Facebook and other social media connections, she is Director of Coaches and a speaker for The Journey Deepens Retreats, and she facilitates workshops at MissionNext Forums. The author of Transforming Together published by Moody, Ele also invests time in counseling and spiritual mentoring.
Women's Bible STUDY
Armor of God*
Fridays, 9-10:30AM, March 2
9-1O:30AM, Room 415/416, Cost: Free, RSVP:
*Childcare available Friday morning
For women of all ages to explore God's Word in a small group setting. This Spring we will be studying "The Armor of God," looking at why we need spiritual armor in a spiritually dangerous world, and how to understand each piece of what it means to "put on the full armor of God" (Ephesians).
Women In Ministry