We're Glad you asked!
HELPING OUR NEIGHBOR YAVAPAI ELEMENTARY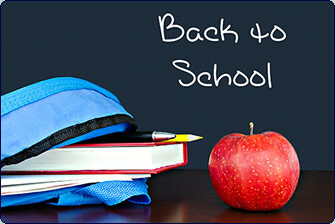 We want to provide each of their 33 classroom teachers with a back to school classroom kit. Please sign up to bring as many items on this list as your family can contribute to help make this happen. We need all items delivered to church by Wednesday August 2nd. Please contact Chris Woodard if you have questions.
ENCORE FALL REGISTRATION
Begins Tuesday, August 1
BLESSING OF THE BACKPACKS & FAMILY WORSHIP SUNDAY*
Sunday, August 13, 9 & 10:30AM Worship Services

Our schools are a mission field, where our children can share and show the love of Christ with their friends and teachers. All kids are encouraged to bring their backpack to church, where they will receive a blessing at the 9 and 10:30AM worship services.
*Childcare available for kids 0-2 (9 & 10:30AM services)
SUMMER LUNCHES: FALL SUNDAY SCHOOL KICK-OFF
Sunday, August 13
11:45AM
Landes Center, Cost: Free

Welcome to the Fall Semester! School is back in session, and we're kicking off the Sunday School year in style. Learn more about what's ahead for kids at VPC!
RSVP is appreciated but not required: RSVP
SUNDAY SCHOOL START
Sunday, August 20,
9 & 10:30AM


The Fall Sunday School semester starts on August 20! Kids are invited to join their parents at the beginning of worship during the 9 and 10:30AM services, then go with their new teachers to class. Please remember to register your kids!
Questions? Email Tina:
SUMMER BROCHURE
Make sure to check out the summer brochure for the complete list of details and activities going on this summer at VPC.