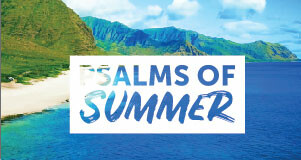 PSALM 74:18-23 | Remember this, O Lord, how the enemy scoffs, and an impious people reviles your name. Do not deliver the soul of your dove to the wild animals; do not forget the life of your poor forever. Have regard for your covenant, for the dark places of the land are full of the haunts of violence. Do not let the downtrodden be put to shame; let the poor and needy praise your name. Rise up, O God, plead your cause; remember how the impious scoff at you all day long. Do not forget the clamor of your foes, the uproar of your adversaries that goes up continually. SEE ROMANS 8:18-28

Finally the writer appeals to this amazing God for help against enemies and on behalf of his suffering covenant people. The loss of King and Temple and capital was traumatic but it helped the nation return to its covenant and become a people defined by Torah and not by geography. Whenever God's name is honored, anywhere in the universe, there is his Kingdom.

As Christians, we have a deeper sense of the way God can use suffering to fit us for heaven because of the event of the cross. Our God is not simply creator and King, but suffering servant.

Meditate on these verses and on Romans 8:18-28.

If you wrote a lament for America, what would it be?