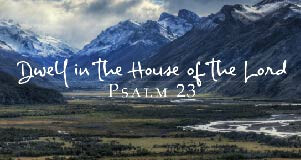 MARK 6:7-13 | 7 He called the twelve and began to send them out two by two, and gave them authority over the unclean spirits. 8 He ordered them to take nothing for their journey except a staff; no bread, no bag, no money in their belts; 9 but to wear sandals and not to put on two tunics. 10 He said to them, "Wherever you enter a house, stay there until you leave the place. 11 If any place will not welcome you and they refuse to hear you, as you leave, shake off the dust that is on your feet as a testimony against them." 12 So they went out and proclaimed that all should repent. 13 They cast out many demons, and anointed with oil many who were sick and cured them.
The Shepherd Psalm is realistic about threats to the flock, the reality of evil, and the presence of enemies. Biblical realism avoids utopian pictures of human nature and present life, insisting that we live in a world where good will be opposed, the Kingdom will suffer attack, and the Godly will be challenged.
Jesus' mission instructions to His disciples reveals this. Take no money, lest you be a target for robbers. Shake the dust off your feet when you are unwelcome. Go two by two for encouragement as well as safety.
How realistic is your worldview?
What do you make of the mission instructions?