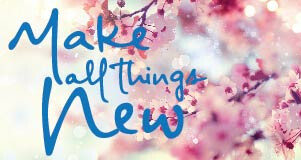 JOHN 11:30-36 | 30 Now Jesus had not yet come to the village, but was still at the place where Martha had met him. 31 The Jews who were with her in the house, consoling her, saw Mary get up quickly and go out. They followed her because they thought that she was going to the tomb to weep there. 32 When Mary came where Jesus was and saw him, she knelt at his feet and said to him, "Lord, if you had been here, my brother would not have died." 33 When Jesus saw her weeping, and the Jews who came with her also weeping, he was greatly disturbed in spirit and deeply moved. 34 He said, "Where have you laid him?" They said to him, "Lord, come and see." 35 Jesus began to weep. 36 So the Jews said, "See how he loved him!"
What passions existed in Jesus' heart? He was passionate about the pain people feel when love becomes a loss. On the 23rd of March, I lost my mom, Anne. She was my spiritual mentor and someone in whom the grace of Christ was very visible. I was fortunate to be allowed in to see her despite the lockdown at her nursing home, and I was next to her during her final hour. I remembered the emotion Jesus showed at his friend Lazarus' death, and the courageous desire he had to free Lazarus' family from their grief. I felt his comforting presence as I prayed, sang hymns, and recited passages with Mom.
All throughout his ministry, Jesus was determined to comfort those who mourned.
Blessed are those who mourn. They will be comforted.
What blessing is there in mourning? What comfort?